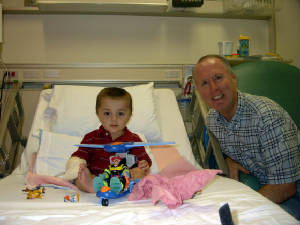 Jonathan receiving his Pamidronate Treatment.
Jonathan's Experience with Pamidronate
We read so much information on OI when Jonathan was first born. We were very interested in learning more about Pamidronate, a new drug that seemed to be dramatically improving the quality of life for infants and children with OI. We thought it sounded very interesting and were excited that there was some hope for Jonathan. We learned at the time Pamidronate was being offered at Shriners Hospitals for Children in Montreal and Los Angeles. When Jonathan was about 2 weeks old I contacted Dr. Tyerman in Los Angeles who was directing the Pamidronate study there and she said Jonathan would be a great candidate. His first treatment was scheduled for when he was 6 weeks old. We lived near Salt Lake City, Utah and decided that we would fly to LA every 8 weeks for the treatment.
We began communicating with other families whose babies were getting Pamidronate and were eager to see how it would help Jonathan. Dr. Plotkin, a wonderful doctor who heads the Pamidronate studies at the Shriners in Montreal, was particularly helpful and always available to answer questions for us.
As soon as we returned from LA I began talking with the Shriners hospital here in Salt Lake City (45 minutes North of where we live) about the possibility of Jonathan getting his Pamidronate there. The entire staff there was amazing and so helpful. We found out the day before we were supposed to fly back to LA for Jonathan's second treatment that we WOULD be able to get his treatment in Salt Lake City!

During Jonathan's first 4 months he fractured his left femur, his left humorous (that we never knew about--but saw it on x-rays after it had healed), his left tibia, and had multiple spinal compression fractures. He probably had a few micro-fractures that we didn't know about as well. He was in a considerable amount of pain during those first few months. He would cry whenever he got the hiccups, and seemed to be on Tylenol and Motrin more often than not.

However, after the first treatment we did notice that he was in less pain. By 3 months of age he didn't cry anymore when he got the hiccups and was starting to be move around more. His last fracture was on July 8th. Since then he has gotten stronger and stronger! And best of all--has been fracture free for 6 months!

Update: January 2001
Jonathan is now 10 months old and has had 5 treatments. He sits unassisted, rolls over, and pounds his arms on his high chair and kicks his legs on the ground like there couldn't be anything more fun. In December he started to do an army crawl. His Occupational and Physical Therapists, who have worked considerably with OI children, are very pleased with his progress. We feel so blessed that this drug is available and that it seems to be helping Jonathan so much.

Jonathan had a bone scan in June of 2000 (3 months of age) which did not result in much useful information. Babies BMD are not very high to begin with at such a young age, plus there is not that much data on BMD in infants that young, so we didn't really learn anything from this first bone scan. However, another scan was done in October. Jonathan's bone scan results show that his overall bone mineral density puts him in the 28th percentile for his age and weight. And because the hospital has a lot of "forearm" data of infants, they did a detailed scan on his forearm. His forearm BMD was in the 18th percentile. Another bonescan is scheduled for the beginning of Feb.

Update: April 2001
Jonathan had his bonescan in February and his BMD is now in the 49th percentile--which is well within the normal range for his age/sex. I talked with Dr. Plotkin at Shriners in Montreal and he said his numbers were great and that his BMD has increased over 100% since starting Pamidronate. However, Pamidronate is only a treatment for OI, not a cure. The same day we got the results of his bone scan--he broke his right femur after going over 7 months without a fracture. His bones still have the collegean defect, which means he has poorly constructed bones. But at least now they are "thick" weak bones, rather than "thin" weak bones. Jonathan's progress is continuing. After recovering from his fracture on 2/13/2001 he is now back to crawling on all fours, pulling to a stand, and is beginning to take steps when supported under his arms.
Update: February, 2010
Jonathan continues to receive Pamidronate, but now at almost 10 years old only does so twice a year. The IV infusion takes one day to complete which is a big improvement time wise over the three day period it used to take. With Pamidronate there is an individual learning curve as to how much is needed. We, with the help of our Drs. have decided that Jonathan is on a half dose now and has been for a few years. The half dose seems to still keep him pretty comfortable as far as bone pain goes. He still has occasional femur fractures, those have consistantly been his weak point. He loves going to the hospital for his treatments, funny as it sounds he looks forward to them. Jonathan is a very active boy and walks independantly. He uses a wheelchair when recovering from a fracture or surgery.


Research on the use of Pamidronate to treat OI ( from 2001)
Medical Treatment of Osteogenesis Imperfecta as in recent years, the major thrust of our activities has continued to focus on medical treatment of osteogenesis imperfecta (OI) with bisphosphonates, a family of drugs with proven potential for decreasing bone resorption (destruction). Although widely used in adult bone disease, this class of drugs has not been extensively used in children. In 1992, we initiated a treatment program based on the use of one of these drugs, pamidronate, (Aredia, Novartis) in severe forms of OI. These studies have provided the basis for a large number of similar programs now developing around the world.

In Montreal, we now have 200 patients under treatment. The initial results that we published in 1998 in the New England Journal of Medicine continue to be evident in this larger cohort. In patients with OI treated with pamidronate, we have consistently observed disappearance of bone pain and increase in bone density, particularly in the vertebral bodies and in the cortex of long bones leading to increase in bone mass and decrease in fracture incidence. This form of treatment is a major commitment for patients and their families as well as for the hospital personnel involved since it imposes admissions to the hospitals for 3 days every 2 months. During those 3 days, the drug is slowly infused intravenously under careful supervision. No detrimental side effects have been observed so far and no negative effects on body growth, fracture repair and bone architecture have been observed.

The demands of families for such treatments have increased very rapidly and, to lighten the burden on the Canadian Hospital and reduce distance traveled by the patients and their families, we have now established a network of Shriners Hospitals where identical protocols for pamidronate administration have been implemented (Canadian, Chicago, Erie, Intermountain, Lexington, Los Angeles, Springfield, Tampa, and Twin Cities).

All results obtained by patients treated in these locations will be centralized in a single database at the Canadian SHC in order to rapidly build a large set of reference data that will hopefully allow, in the near future, delineation of long-term guidelines for the use of this treatment approach. Indeed, as indicated below, OI is a very complex disease, probably made of various entities with different basic mechanisms which implies that gene therapy will not be possible for many years. In the meantime, the bisphosphonate approach will remain the only efficient way to positively influence the natural course of the disease. Through the network of Shriners Hospitals working together, we will maintain our leadership in the assessment of this new treatment developed at the Canadian SHC in Montreal.

Pamidronate can only be given intravenously as it is not absorbed by the gastrointestinal tract. Other bisphosphonates are under evaluation and we currently have a clinical trial with one of those, alendronate (Fosamax, Merck). To evaluate the efficacy of this compound, we have launched a multi-center study trial that includes 17 Shriners Hospitals across North America. This very elaborate protocol was initially supported fully by the Shriners Hospitals with Merck only providing the drug. The large population seen at the Shriners Hospitals has allowed SHC to enroll 130 patients in the trial with the aim of including 160 subjects. Merck has recognized that this will be the landmark study that will allow ascertainment, with great precision, the efficacy of an orally administered form of bisphosphonate in the pediatric population.

Indeed, if the drug gives a positive result in the OI population, it is likely that the indication will be extended to other forms of osteoporosis in children. To underscore its interest, Merck has recently signed a new research agreement with the Shriners Hospitals for Children whereby the company will reimburse Shriners Hospitals for all the expenses incurred since the initiation of the project and cover fully the expenses for the completion of the project which is likely to last until the end of 2003. Merck has decided that they will not undergo any other trial in children until the results of this trial are available. This exciting project will continue to establish our leadership in a mode of treatment that is likely to be the only one available for OI for many years to come.
Francis H. Glorieux, M.D., Ph.D.
Director of Research
Canadian SHC
Professor of Surgery and Pediatrics
McGill University

CLICK HERE to join with other parents of OI Children. We have an email list called OI Parents with over 650 members.